Redwoods Favourite Wedding Venue
Mountain biking, walking, orienteering and weddings! YES weddings!
We're thrilled to announce that The Redwoods has been nominated into the Wedding Industry Awards 2014!
This means a beautiful bride or groom felt The Redwoods was the perfect venue for their ceremony.
So if you have tied the knot under the Sails at The Redwoods or feel being surrounded by lush green ferns, towering redwoods and the undeniable beauty and mystery of the forest sounds like a perfect venue for such an occasion you can vote for us as the best venue in the Bay of Plenty.
Cast your vote now…https://www.surveymonkey.com/s/wiaoutstandingceremonyvenue2014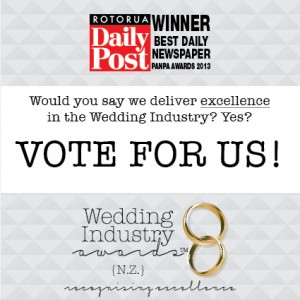 One comment shared
Oh my goodness! Incredible article dude! Thank you so much, However I am going through
problems with your RSS. I don't understand the reason why I can't join it.
Is there anyone else getting similar RSS issues? Anyone who knows the solution will you
kindly respond? Thanx!!

Have a look at my web-site :: theme difficult