Walking, Hiking & Running
All sign posted tracks start through the beautiful Redwood Grove under the magnificent, towering Californian Coastal Redwoods. Hiking further afield will take you through a diverse range of
native plants and exotic trees, which lead to spectacular views of Rotorua City, lakes and surrounding countryside.
These tracks are also suitable for off-road running. Those new to the sport can start on the easier tracks and work their way up to longer distances incorporating hill work and steps.
There are six sign posted walking tracks starting from The Redwoods Visitor Centre and I-Site that cater for beginners and leisure walkers through to hikers looking for an extra challenge. As these walks are designed as circuits follow the colour coded arrows in the direction they are pointing.
Only a short drive from The Redwoods is Tikitapu/Blue Lake, where you can enjoy a picturesque short walk around the lake and take in views of both lakes Tikitapu and Rotokakahi/Green Lake.
If you prefer to explore in your own way, rather than keeping to sign posted tracks, be sure to give yourself plenty of time as the forest is a maze of roads, old logging tracks, various mountain bike
tracks, horse trails and 'locals' short cuts. It is more fun exploring with a friend and although you are unlikely to get seriously lost it would be wise to take a mobile phone and let others know your
plans.
Track Classifications

Short walk: Well-formed tracks that take up to an hour (return) of easy walking. Suitable for most ages and fitness levels. Some may cater for people with mobility difficulties. All watercourses are bridged.

Walking track: An extended walk that takes from a few minutes to a full day return. Suitable for relatively inexperienced people with a low level of backcountry skill. All watercourses are bridged.

Tramping track: Marked tramping track that generally follows the lie of the land and is commonly not formed. May be a multi-day or backcountry track taking less than a day. Suitable for fit, experienced and adequately equipped people with good backcountry navigation skills.

Dual-use track: Walking and mountain biking are both available on dual-use tracks. Bikers please stay in control of your bikes at all times and give way to walkers.
Be a safe walker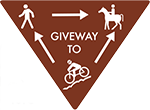 Follow the direction of the coloured arrow marker system and walking symbols.
Keep to dedicated walking tracks or roads.
Forestry roads are multi-use – beware of vehicles and bikers and give way to horses.
Be prepared with maps, clothing, footwear, food and water appropriate for the length of walking track you are undertaking. Always plan for the unexpected.
If tramping or off track exploring, let someone know where you are going and when you are due back.
Further reading