Information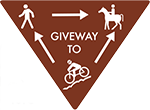 The Whakarewarewa Forest is primarily a productive plantation forest where all facets of the forestry
management cycle can be seen from time to time. However the forest is also a place where people can enjoy and explore the forest environment through various recreational activities. So that everyone has a safe and enjoyable experience, please respect the code below:
There are tracks specifically designed just for walkers, for bikers and for horses. Keep to your dedicated tracks.
Forestry roads are multi-use. Beware of forestry vehicles using the roads.
Keep left unless passing. Slow down and communicate when passing others.
Obey all forestry signage. Tracks and roads may be closed or diverted at any time for maintenance, forestry operations or safety reasons.
NEVER light fires.
Remove rubbish and keep streams and lakes clean.
Protect plants and animals.
Respect our cultural heritage.
Important Information
First Aid support is available from the Forest Response Unit. Call 0800 WHAKA1 (0800 942521)
In an emergency (medical/fire or other) telephone number in New Zealand is: 111. This can be dialled free from any phone.
Main access gates to the car parks are open:
5.30am to late at the entry to The Redwoods on Titokorangi Drive (Long Mile Rd)
6.00am to late at the entry to the Rotorua Mountain Bike carpark on Waipa State Mill Rd.
6.00am to 9.00pm at the entry to Te Putake o Tawa on Tarawera Road.
There is no vehicle access into the forest for the general public.
Please read signs located at main access points and within the forest for additional information and safety notices.
Further reading