WHAKAREWAREWA FOREST EMERGENCY MARKERS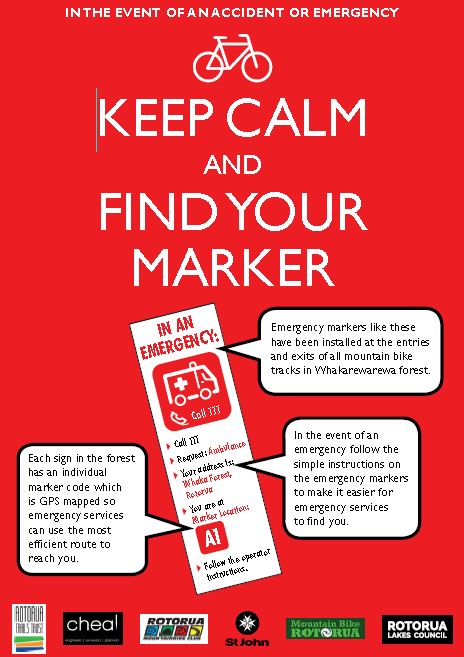 Forest markers a step forward for safety – Media Release Dec 2016
This week Peak Safety Rotorua finished installing 185 GPS mapped markers in Whakarewarewa forest which are designed to help emergency services locate and reach patients more efficiently.
Rotorua Lakes Council together with a group of local organisations has developed a system that uses coded markers and GPS mapping to help emergency services locate injured people and use the most efficient route possible to reach them.
The system was developed following concerns from St John and local mountain bike enthusiasts about the difficulties in reaching injured forest users.
The GPS codes for the markers have been provided by Rotorua-based Cheal Consultants Limited which maps the forest for events.
Cheal's Rotorua Manager Nick Davies, says the system works by allocating unique codes with coordinates of key locations within the forest, such as at the start or exit of a trail.
"Our staff have a long history with mapping the forest and we're keen mountain bikers. The emergency mapping was a logical step forward and a good use of the existing Whakarewarewa forest information.
"The system works by allocating a unique code to the coordinates of key forest locations. When ambulance or response staff are given the code, it provides them with details such as suggested best forest entrance points, key facts regarding road access, turning and where they will need to start walking."
In this first stage the markers have been installed in the areas where the injuries are most likely to happen – this means the mountain bike tracks. Once the system has proved to work efficiently the project team will progress with installing them on other tracks in the forest and at other locations in the district.
The markers will be located at the entry and exit signs of every mountain bike track and the large information boards throughout the forest. They are highly visible and have simple instructions with recognisable symbols to make it understandable for all users, including overseas visitors.
Local St John ambulance Officer Leisa Tocknell says under the previous system the service used Waipa State Mill Road as the default address for all call outs in the forest.
"On occasions, while our communications officers are gathering more information about the exact location, the ambulance crew are already on their way to Waipa State Mill Road. At times the better entrance would have been Long Mile Road.
"Not all of our staff are familiar with the forest and at times we have ambulances from outside of Rotorua attending patients here. The marker system will be of great benefit to all St John officers trying to locate patients in the forest."