Redwoods TreeWalk blessing
Today the Redwoods Treewalk was blessed by Ngati Whakaue who are tanagta whenua of the land on which the Tokorangi Forest (Redwoods) stands. Following a lovely mihimihi (welcome) from Jacky Marino, Mayor Steve Chadwick set the scene with thanks to all parties involved in this process and expressing the excitement everyone felt for a new venture such as this to be added to the existing and numerous fantastic attractions Rotorua has to offer. Alex, the owner of the Treewalk brought everyone to tears with his emotional words that reflected the idea that formed over 6 years ago and now seeing it come to fruition with help of local investors. A true partnership and collaborative approach by land owners, managers and the owners of the Treewalk.
The Redwoods Treewalk is an eco-tourism offering that creates a new and exciting experience for visitors to the forest. A 553 walk up to 12 meters off the ground over suspension bridges set amongst the towering californian redwoods.
Click on the Redwood Treewalk Rotorua tab for more information.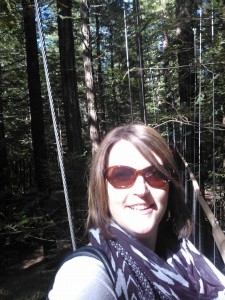 6 comments shared
10th January 2016, just had my first walk on the Redwoods elevated tree walk. Great walk and I'd like to make some constructive comments.

Signage is good but many of the visitors are foreign so I'd suggest you have alternative flyers for Chinese and Korean tourists. The walkways often have a step down from the tree which is fine, but a steep incline as you approach the next station. They may get slippy over time, especially with tree debris and water on the timber surface so grip treads may be necsary later.

I'm not sure if there was a rush to open but some of the metal fastenings between the timber hand rails have sharp metal edges that may need filing and a couple of the timber lengths could do with further smoothing to avoid splinters and rough edges causing hand injuries.

You are within wifi range so an automated camera taking pictures of walkers that are then available to purchase may be a good value add.

Suspending the stations with strapping avoids significant use of bolts and nails into the trees which is to be commended. People may like to know how the bridges will respond to the ongoing growth of the trees and overall management of the redwoods. Eg how will successional felling and storm repair work be undertaken. Selective tree removal etc. what is the overall goal. Options for expansion?

Finally, the entry point at the bottom of the steps needs landscaping and a general upgrade to match the general finishes and quality on the walkway itself.

As an Chartered forester I want to commend you for this new addition to the Redwoods. It's fair value and offers an exceptional opportunity to see the redwoods from a differing perspective. There are further educational and language options that could be developed and I note the desire to establish a local rate ( I suspect lower) to encourage residential use.

Anyway hope this helps.

Great walkway, well done.

Hi Stewart

Thanks for your feedback. I will pass on to the operators of the Tree Walk. As they have only just opened there is still some tidy up to do including significant landscaping. They also have plans to continue to provide added value including communication with other markets, further expansion and, yes, photos amongst other things. Glad you enjoyed the experience and you'll have to visit again once the next stages are complete. Thanks Julianne

Diane bell

Yes, would have loved to do the tree walk, too expensive for us pensioners. Also could we have more wooden bench seats to sit on during the redwood track walk. There used to be a lot more.

Thanks for you comments. We haven't removed any bench seats, but replaced them a few years a go and added in a couple more. However we are always reviewing so will have a look at see what we can do.

Christel Webb

We would have loved to do the tree walk but we are pensioners and could not afford the high prize. I imagine that families with a low income will be very disappointed when they see the prize of the tree walk.

Hi Christel, there are special prices for Gold Card holders. You can enquire directly with the Tree Walk operators for this discount. http://www.treewalk.co.nz/prices/ Otherwise the on the ground walks are all free and are lovely too! 🙂