REDWOODS TREE WALK UNDERWAY
Construction of a new attraction within the Redwoods started today, 10 Nov 2015, with the drilling of the holes for the poles that support the entry/exit platform to the Redwoods Tree Walk.
The Redwoods Tree Walk stage one, is the construction of a 553 meter suspended walkway 12 – 15 meters off the ground through Californian coast redwoods and Douglas fir and will allow customers to experience the forest from a totally new perspective.
The tree platforms and bridges will be suspended using a unique sling method which allows the trees to grow. Much of the work is done on the ground with the platforms and bridges lifted and fixed in to place.
Visitors can expect to experience the Tree Walk early this Summer, so keep an eye out for official opening dates on the Tree Walk website http://www.treewalk.co.nz
Stage 2 will be a canopy walk at 20 plus meters off the ground and will be built sometime in 2016.
Please continue to enjoy the forest but keep safe by keeping clear of work zones, which will be taped off during construction.
The Tree Walk will look similar to the image below.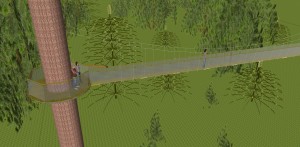 10 comments shared
Mikayla

Can't wait for this, garunteed to be a hit

Natty

I am here now and it is not ready yet. I am devastated, it looks AMAZING
I will have to return

Chris O.

Been here December 30, 2015 and its an awesome experienced! Must do in Rotorua and recommended activity. Kids must be supervise.

janice mccallum

a shame only a few using the tree walk when we visited. $25 is too expensive, if was $10 im sure you would get most visitors on buses doing it, a great idea to be wasted because of price,

Hey Janice I will provide your feedback to the Tree Walk operators. Hope you enjoyed the 'on the ground' free walks!

Barbara mackenzie

Awesome experience and well worth the $25 per adult. Kids under 5 free and family packages…..
Well done Rotorua what an asset to the Redwood Forest.

Joan

I agree with Janice, my husband and I (both seniors) were keen to try the tree walk but decided against it because it was too expensive. We enjoyed a walk under the trees though, free of charge, and returned the next day for another walk. Our favourite activity in Rotorua.

Hi there, did you enquire for a seniors discount? I am glad you enjoyed the walk though, The Redwoods is beautiful what ever way you experience it!