Bike
One of the oldest mountain bike networks in the country, with master crafted trails, unbeatable riding surfaces, well draining volcanic soils, varying topography and fantastic scenery. It is no wonder Rotorua is renowned among mountain bikers as a premier riding destination.
With around 150km of continually evolving trails, there is something to cater for all levels of rider, from beginners and family groups through to experts looking for extreme action.

Be a safe Mountain Biker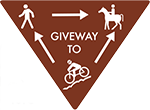 Mountain biking has dangers. Proceed at your own risk and ride within your ability.
Wear an approved cycle helmet and protective clothing.
Ride in the direction of the track arrows and do not take short cuts or create new lines.
Stay on roads or designated mountain bike tracks.
Forestry roads are multi-use – beware of forestry vehicles, and give way to walkers, uphill riders and horses.
Be prepared with maps, food, water, clothing, tools and first aid appropriate to the ride you are undertaking. Always plan for the unexpected.
Do not build new tracks or modify existing tracks. Only official track developers are allowed to perform this work.
If you need First Aid support call the First Response Unit on 0800 WHAKA1. In any other emergency call 111.
Rotorua Trails Trust was formed to advocate for and develop the sport of mountain biking in the Rotorua area. Its work involves maintaining and developing trails, athlete development, running events and cycle advocacy.
Trail Grading Key

BEGINNER Fairly flat, wide, smooth track or gravel road.

EASY Mostly flat with gentle climbs on smooth track with easily avoidable obstacles such as rocks and potholes.

INTERMEDIATE Steep slopes and obstacles possible on narrow track, plus poor traction.

ADVANCED Long steep climbs, narrow track, poor traction and obstacles present. Some parts may be easier to walk.

EXPERT Technically challenging, giant climbs, narrow track, drop-offs, sharp corners, some bike carrying required.

EXTREME Extremely steep sections with large drop-off s and other unavoidable obstacles. May include man-made structures and jumps.

DUAL-USE Walking and mountain biking are both available on dual-use tracks. Please stay in control of your bikes at all times and give way to walkers.
Further reading